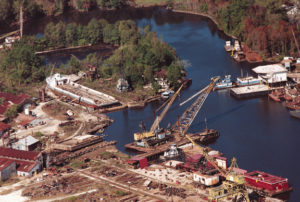 Equity Development Systems Ltd. handled the complete disposition of this National Priority List Super Fund Site.
EDS provides comprehensive collateral asset management, loss mitigation, and divestiture services to secured creditors and the legal community throughout-the-world.
EDS specializes in providing global onsite commercial loss mitigation-special situations crisis and interim management for troubled accounts facing operational and financial difficulties and, in handling all efforts related to the wind down and complete liquidation of industrial, manufacturing and distribution related plants and facilities. We are particularly experienced in handling the disposition of environmentally-sensitive and contentious replevin-related special assets for secured lenders, and in handling the divestiture of all capital assets, real and moveable, through corporate consolidations and restructuring transactions for multinational corporations throughout the world.  EDS has successfully handled some of the world's most important and high-profile corporate consolidations and restructuring transactions.
EDS' Investment Recovery Centers of America® unit (Recovery Centers) owns / operates strategically located multipurpose venues for the storage and remarketing of recovered assets. Our full-service Recovery Centers fulfill EDS' unique capacity to immediately marshal our client's recovered moveable assets, land and marine, to our secure facilities for disposition. EDS' flagship Recovery Center is the Port of Slidell in Slidell, Louisiana (Greater Gulf South, USA).